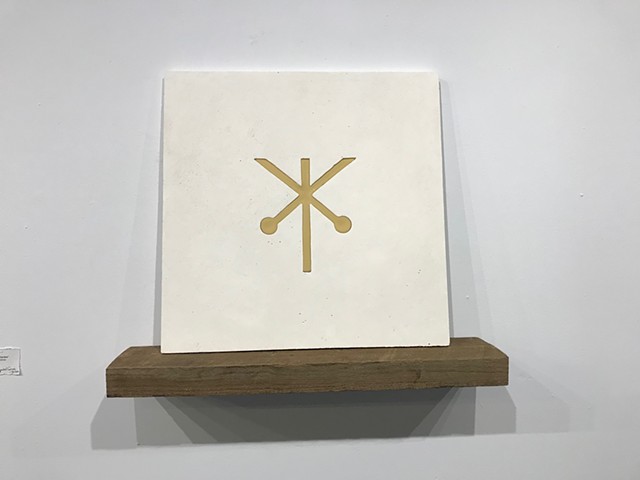 Hobo Code Series :: There is Fruit in the Garden
Plaster + Wax + Reclaimed Wood
21" x 21" x 2"
2018
I worked with women and children experiencing homelessness for five years through The Arts In Healing in Louisville KY. I went weekly to the family emergency shelter to facilitate an art project – It was the hardest work I have done so far in my teaching career.
I wanted to document my experience and there was a part of me that identified with these women. I was raised by a single mother and moved around a lot in my childhood – in fact since then I have moved 52 times in my life – a bit of a transient myself.
After my research I discovered how the World War I veterans traveled the railroad system and developed a code system unlike the marks that prehistoric cave dwellers made. Humans have been coding for centuries. Hobo codes include marks describing where to find food, who you can trust and where you can find a safe place to sleep – directional signs and even signs warning against guard dogs and kind humans (gendered) were made on the sides of homes, building and train cars. This coding system keep men and women safe and part of an underground community.
Process
I form the symbols out of oil based clay and then surround it with a sealed framed system that I then pour wet plaster into – when the plaster is dry I removed it from the frame and remove the clay that has created a cavity.
After the cavity is cleaned and excavated I pour hot beeswax filling the cavity. The plaster represents the building systems of that era - work that kept most men employed. The beeswax is a natural building material - both systems supporting the idea of shelter as being a natural human right.