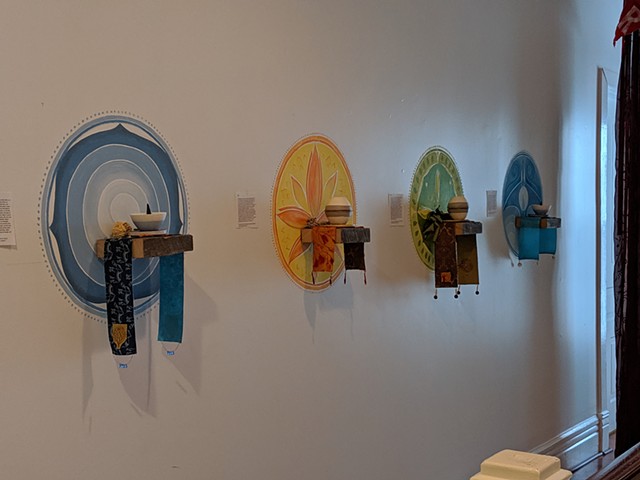 Intentional Space Design / Four Element Wall Altar
Interior paint, Wood, Plaster
24" x 24" x 6"
2020
Intentional Space Design
As an intentional creative practitioner for residential dwellings and day-to-day business spaces I provide art services that will harmonize a space. I intuitively assess each space for intentionality of placement, color and design that will interpret as harmony, calm and beauty.
My artwork and creative services display and integrate harmonizing tools and symbols such as; water, earth, fire, metal, stone and color to magnify the essence of a place. Along with the 3D design work I create murals using earth based imagery and medicinal plant life for encouragement and inspiration - small or large scale - including stairwells.
The murals and small altar spaces integrate naturally into any interior environment or exterior garden space. I love working with intentional spaces including yoga and wellness studios and counseling centers, but limited too. I will transform small nooks, entry/exit ways, thresholds, meditation rooms, indoor and outdoor gathering spaces with interactive natural design.
I love story making and interaction so I will include my artworks into an installation using; sand trays, Yin Vessels, mats and fabric and natural materials.
These intentional spaces will take you into the present moment to pause and be still – before you move on!
A ritual moment for you and all of life.
Contact me to schedule a zoom session: remicreative11@gmail.com